Listen, I didn't know how to breathe. That's what started the whole thing.
I'd been practicing yoga since I was 13, but I didn't realise I was holding my breath, losing my centre, until 20 years later.
Crazy, right?
People tend to misinterpret the importance of breath. They don't understand it's the beginning of everything, especially healing.
If you're not breathing, you're not present. Your mind is spinning out somewhere else. You're not getting the benefit of the work you're trying to do to de-stress.
I figured it out when I read A Life Worth Breathing, by Max Strom. I was 33 years old. It inspired me so much, I tracked him down and took his advanced teacher training. Then I ran with it. That was 12 years ago.
I've been teaching yoga for 22 years, Pilates for 17 years and meditation for a decade. To me, these are the tools to support healing from all sorts of trauma: emotional, physical, and mental. They are gentle and easy to implement.
And that's what I wanted for myself.
Movement and play were responsible for my mental health in Northern Ireland, starting at a very young age. I saw no reason to stop as an adult.
As the world wakes up to the potential of these modalities, I'm thrilled to be able to offer breathwork facilitator training to you.
It's my most sincere hope that we blanket the world with breathwork. We have enough medication and talk therapy already.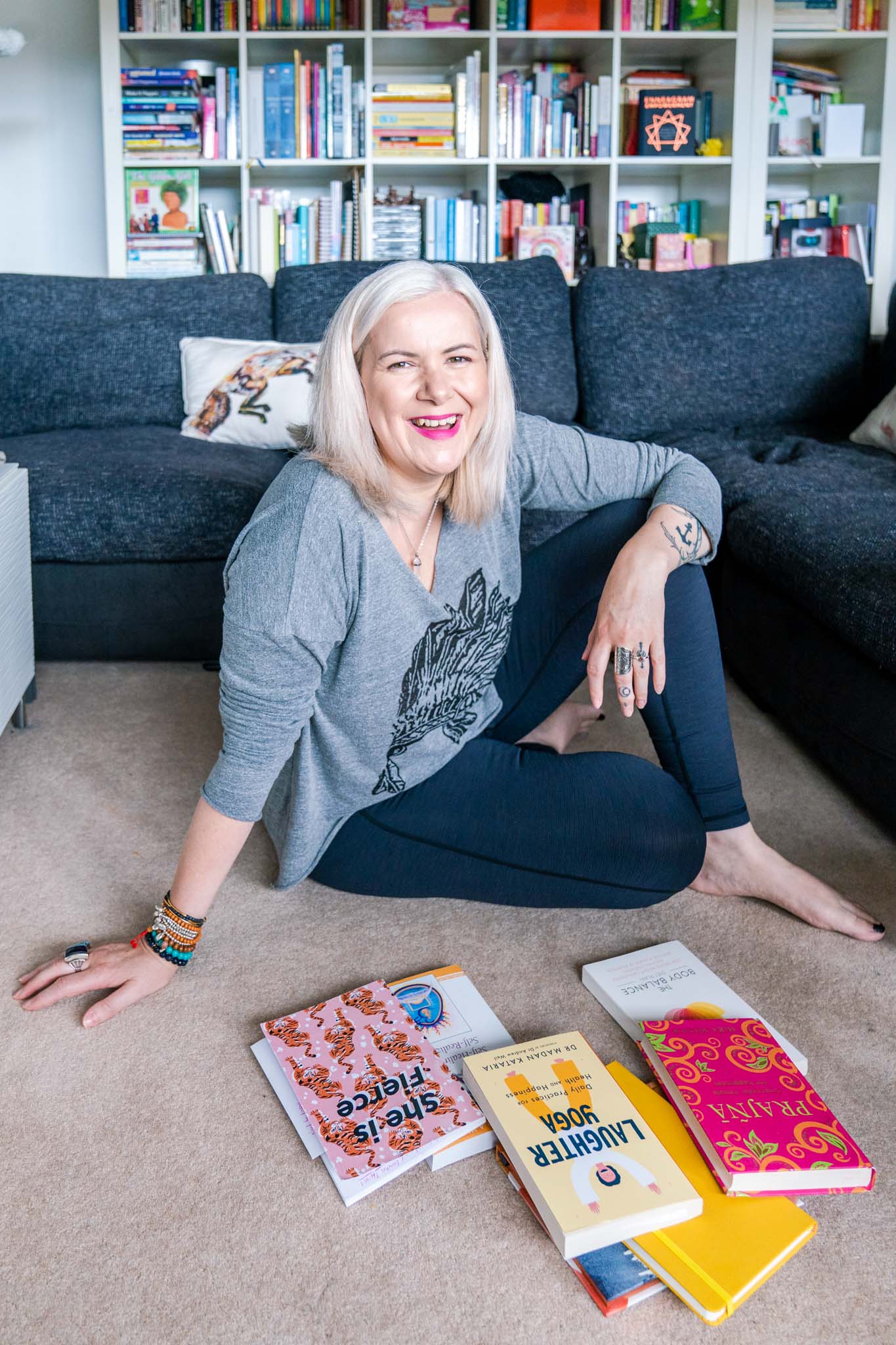 BREATHWORK
FACILITATOR TRAINING
The first thing to know about my facilitator training is this is not a yoga course. And it's open to anyone who has an interest in working with clients (1:1 or groups) to help support and heal trauma.
You don't need equipment and large amounts of money to get going. You learn the tools and then you and your clients start to feel better fast.
Breathwork is one of the most cutting edge and impactful ways to support people. And it doesn't take as long as yoga or pilates teacher training either.
I teach a variety of breathwork styles to support all clients. This is not a one-size-fits-all training.
This is a four-month, accredited, 100-hour training to certify you as a breathwork facilitator.
Now for the nitty-gritty:
This CIMSPA endorsed and IPHM accredited qualification teaches the skills, knowledge and competence required of an individual in order to work with clients on specific breathing techniques in both 1:1 or group sessions.
Learners will cover:
•

 
The anatomy of the lungs; gaseous exchange; the breath-brain connection and the physical and mental benefits of breathwork.
•

 
How to hold space for breathwork; creating a trauma-informed space and basic facilitation skills.
•

 
How the breath impacts the vagus nerve and its connection to the parasympathetic nervous system.
•

 
The structure of a breathwork session and how to build momentum with music and motivational cueing (i.e.what to say and what to play).
•

 
The content of a breathwork session with an in-depth study of 6 unique breathwork exercises.
•

 
Advanced Facilitation skills – How to plan for emotional and physical reactions; how to modify for different audiences/special populations.
We start this online training on Thursday 18th January 2024 and run for 12 weeks. Assessment will then be a month later.
There will be LIVE Ceremony Calls with Victoria at 1 pm – 3 pm GMT on:
18th January 2024 @ 1 pm – 3 pm UK-time: Live Tuition
1st February 2024 @ 1 pm – 3 pm UK-time: Live Tuition
15th February 2024 @ 1 pm – 3 pm UK-time: Live Tuition
29th February 2024 @ 1 pm – 3 pm UK-time:

 

Leaping

 

Live Tuition
14th March 2024 @ 1 pm – 3 pm UK-time: Live Tuition
28th March 2024 @ 1 pm – 3 pm UK-time: Q&A call
There will be LIVE Peer-to-Peer Practice Calls with Victoria at 1 pm – 2 pm GMT on:
25th January 2024 @ 1 pm – 2 pm UK-time: Peer-to-peer call
8th February 2024 @ 1 pm – 2 pm UK-time: Peer-to-peer call
22nd February 2024 @ 1 pm – 2 pm UK-time: Peer-to-peer call
7th March 2024 @ 1 pm – 2 pm UK-time: Peer-to-peer call
21st March 2024 @ 1 pm – 2 pm UK-time: Peer-to-peer call
25th April 2024 @ 1 pm – 3 pm UK-time: Assessment call
This 4-month, 100-hour training has been designed to stretch your body, mind and breath with the three pillars of
FOUNDATION,
EXPRESSION,
VISION
as these 3 elements are the cornerstone of my Teacher Training courses.
FOUNDATION
Anatomy of the Breath
Holding (Safe) Space for Breathwork
EXPRESSION
Breathing, Trauma and the Vagus Nerve
Breathwork for Special Populations
VISION
High & Low Oxygen Breathwork Techniques
The Business of Breathwork
The course costs £1995 pay-in-full
or
3 monthly instalments of £666
or
an extended 6-monthly instalment plan of £333
POINTS OF DIFFERENCE:
•

 
StretchBodyMind covers a range of high and low oxygen techniques rather than focusing on one specific method of breathing.
•

 
StretchBodyMind covers both spiritual and scientific breath practices, making the training suitable for PTs and Fitness Instructors as well as Yoga Teachers and Pilates Instructors.
•

 
StretchBodyMind covers the WHY as well as the HOW of breathwork so that you can fill your classes by promoting the benefits of this life-changing work.
•

 
StretchBodyMind breaks down complex physiology, particularly around the vagus nerve and the impact of breathwork on the nervous system.
•

 
StretchBodyMind provides tools for your own personal transformation and the confidence to incorporate these tools into your existing classes (or to create an entirely new class).
The call was sooo uplifting… It was a beautiful space to be held and you really sparkled, just like the Victoria I know! You were knowledgeable with lots of connections.
I have felt so alone for the last 2 weeks, googling till the cows come home and your honesty and vulnerability in those few minutes just helped me more than you will ever know … thank you.
FREQUENTLY ASKED QUESTIONS
Is this course live or pre-recorded?
This is a LIVE course.
Replays of all sessions will be added to the course platform within 48 hours after the session.
What are the course dates?
The course starts with a ceremony call on Thursday 18th January 2024 @ 1 pm – 3 pm UK-time (8am – 10am EST).
The course ends with an assessment call on Thursday 25th April 2024 @ 1 pm – 3 pm UK-time (8am – 10am EST).
This is a 12-week course with peer-to-peer calls in between the ceremony calls, followed by a month to practice before final assessment.
How many hours a week is this training?
Approximately 3 – 4 hours a week which includes:
Fortnightly 2-hour live webinar with Victoria
Fortnightly 1-hour peer-to-peer call
10 – 30 minutes of practice per day
30 minutes to journal after daily practice
1 hour a week of practice facilitation during the practice month
Is this course accredited?
Yes! The course is endorsed by CIMSPA (Chartered Institute for the Management of Sport & Physical Activity) with 10 CPD points. It is also accredited by IPHM (International Practitioners of Holistic Medicine). Both will allow you to become a Member and get professional recognition and discounted insurance.
Upon completion of the course you will receive a StretchBodyMind Breathwork Facilitator Certificate which allows you to lead group and 1:1 breathwork sessions.
Sounds great! How do I pay?
You can choose to pay 3 instalments of £666 or access the pay-in-full price of £1995 by clicking HERE.
What is your refund policy?
All sales are full and final and refunds will not be issued. Please note that whilst I understand all circumstances if you are paying with the payment plan and expect to run into any cash flow issues over the coming months, I am unable to pause or refund your payment. Please be mindful of this when committing.
Remember, this is an investment in yourself! You have access to the online studio for a full year after completion of the course and you will be able to download the content to keep forever.
I am interested but I have a couple of questions...
I would love to jump on a call with you and see what is coming up for you. You can arrange that by clicking HERE and choosing a suitable time for a Discovery call with me.