Do you want to become
an exceptional
Yoga Teacher
?
Deepen your practice and understanding of yoga for your own personal development?
Share the life-changing gift of yoga with others?
Learn how to teach this ancient discipline via the latest online technology along with in-person connection?
Get an Internationally Recognised 200 Hour Registered Yoga Teacher Certificate from Yoga Alliance Professionals?
Command a higher rate of pay in gyms and studios or start out on your own and do something you LOVE for a living?
Get onto the course for the BEST PRICE with Early-bird registration which ends 1st JANUARY 2022!
Hi! I'm Victoria, the Founder of StretchBodyMind.
After two years of Lockdown, I am excited to relaunch our flagship in-person Yoga Teacher Training. 
I will be working together with Claire Brennan Clancy of Claire's Yoga Studio in Magherafelt, Northern Ireland to train you how to become an exceptional Yoga Teacher.
In addition to the practical yoga teaching skills you'll gain, you will also receive the latest in positive psychology, mindfulness meditation and Kundalini kriyas.
In short, you'll get a personal development education as well as professional development one!
**NEW FOR 2022! Learn to teach trauma-sensitive yoga classes.**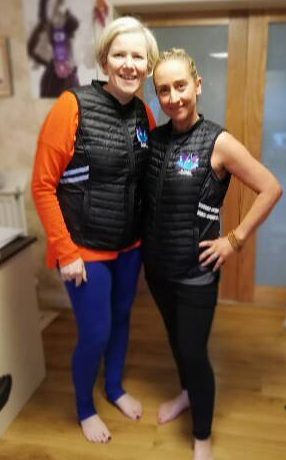 The entire StretchBodyMind Yoga Teacher Training curriculum is designed around the following elements:
FOUNDATION, EXPRESSION AND VISION
as these 3 elements are the cornerstone of StretchBodyMind Founder Victoria's Yoga Teaching and Pilates Instruction.
The FOUNDATION element includes:
Yoga history

Health and Safety

Western Anatomy and Physiology

Sanskrit (the language of Yoga)

Asana

Pranayama
The EXPRESSION element includes:
Yoga philosophy (the important texts of Yoga)

Different styles of Yoga

Eastern Anatomy and Physiology

Mantras (including OM)

The Voice of the Teacher

How to create trauma-sensitive classes
The VISION element includes:
Planning classes

Sequencing

Theming

Meditation/Relaxation

An Introduction to Ayurveda

Teaching online
FREQUENTLY ASKED QUESTIONS
This course is a mixture of:
8 x in-person weekend sessions (plus additional pre-recorded lectures)
2 x online training weekends (which will be recorded)
One years' access to the Marvelous online studio with pre-recorded training videos and recordings of all live calls 
Weekend 1 – 26th & 27th March
Weekend 2 – 30th April & 1st May 
Weekend 3 – 21st & 22nd May
Weekend 4 – 25th & 26th June
Weekend 5 – July – Online
Weekend 6 – 20th & 21st August
Weekend 7 – September – Online
Weekend 8 – 22nd & 23rd October
Weekend 9 – 26th & 27th November
Weekend 10 – Assessment – 3rd & 4th December
The in-person Yoga Teacher Training will take place in the intimate surroundings of Claire's Yoga Studio, 1 Beechgrove Heights, Magherafelt BT45 5EF.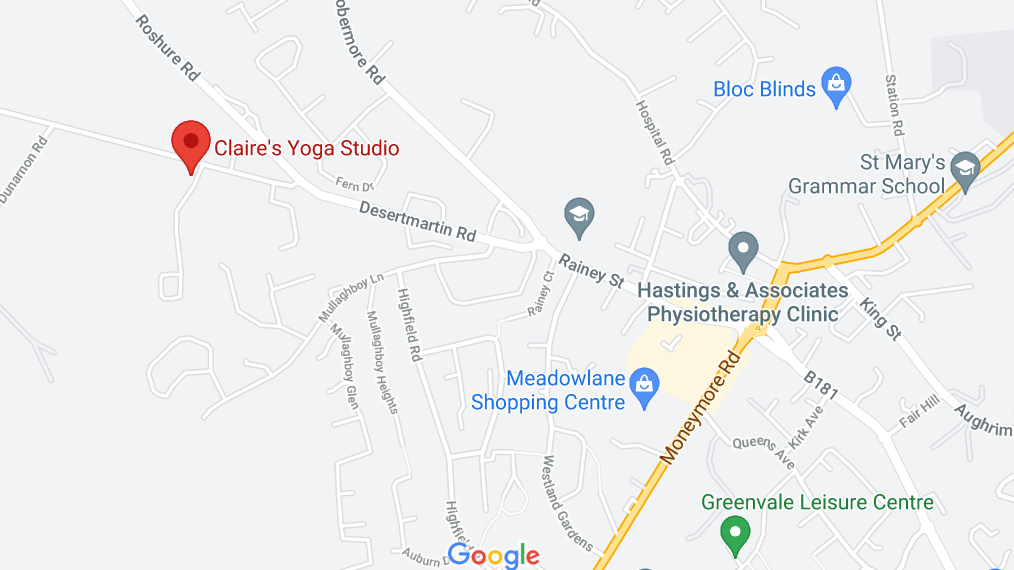 (Picture of the venue map)
MAIN POINTS OF

DIFFERENCE
There are a lot of different Yoga Teacher Training courses out there which can make it difficult to choose the one that's right for you.
So, if you like…
In-person interaction with your course tutors and access to their 50+ years of combined Yoga Teaching experience
Hands-on practice of teaching skills so you develop as a teacher rather than having to write essays to prove your worth as a student
A chance to try out different styles of hatha yoga to find the one that fits your style of teaching rather than having to teach to a set script
A personal development education using proven tools for transformation as well as professional development training
A strong business skills element where Victoria works  with you to become a LEADER and not just a teacher
A learning experience in which you feel encouraged and accepted no matter how advanced your asana practice
Small class size (max. 8 people) so you can learn directly from the tutors rather than being a face in the crowd
A modern partnership with a Yoga Alliance Professionals Trainer Pro in the traditional gurukula system where the teacher passes on their knowledge directly to the student
Then the StretchBodyMind Yoga Teacher Training is the one for you!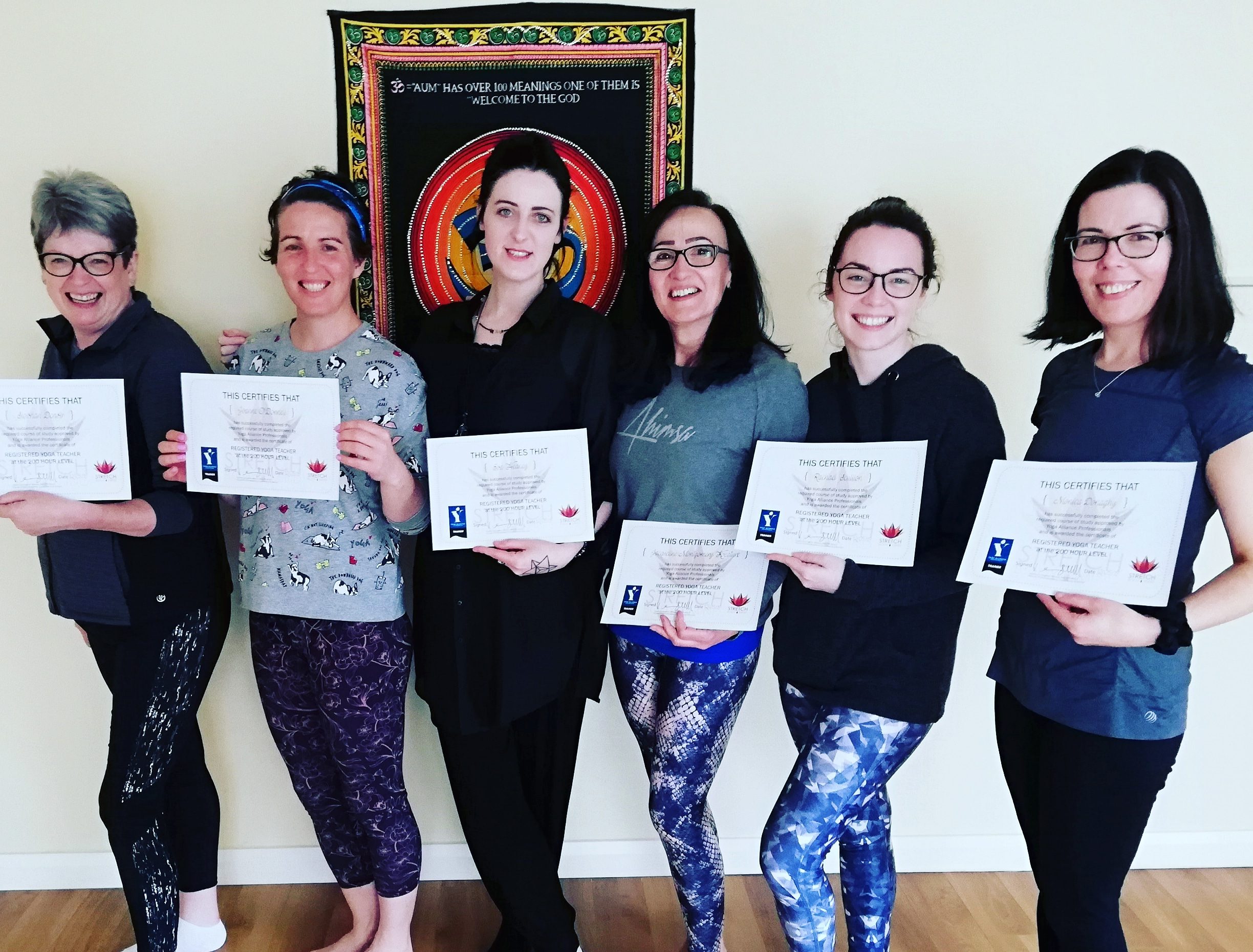 Since I started the course I have found a deeper love of yoga and

the course has honestly changed me as a person

. I feel much more confident in my chosen path, more grounded and present, and I've loved learning so much in all the different areas covered in each class! I feel I've achieved much more happiness since starting on the course. 

I could not recommend this course enough, it's a lifetime investment!!!!!
Before I signed up I thought "What sort of teacher would be taking the course – strict, scary, demanding….??? What if the course wasn't for me after spending a lot of money and not enjoying it…." However,

I have enjoyed every moment of this course, and would recommend to anyone who has the slightest thought or strongest desire to train as a yoga teacher. The online yoga course covers so much, but with

 
V
ictoria's help, guidance, knowledge and patience you feel at ease throughout.
I also benefitted from being part of a Zoom community.  Meeting the fantastic small group of yoga students I was honoured to be part of – we encouraged and helped each other throughout our course – and I feel I have known them forever!
I would recommend StretchBodyMind to anyone looking to expand their yoga practice beyond the mat.

This is more than teacher training

, it's a fully immersive experience into the history and practice of yoga. I have grown as a person and feel that I have benefitted, not just from a set curriculum of teachings, but from the wealth of knowledge and experience that the trainer possessed.
I am completely satisfied with everything about my Yoga Teacher Training, also the amazing accomplishment of being able to complete our course during Covid-19 with still a

high standard around-the-clock support

, gaining skills and knowledge of teaching online is a bonus, with a professional and caring approach.
PAY IN FULL
£
2497
/

One-off payment (incl. £497 deposit)
YOGA TEACHER TRAINING (£5000 value)

Access to the Stretch Your Biz online business course (£497 value)

Hard Copy Teacher Training Manual (£50 value)

Care Package (£25 value)

Yoga Alliance Professionals Trainee Membership & Insurance (£35 value)

Private WhatsApp Group (£300 Value)

Lifetime access to Online Training Studio (£15,000 Value)

TOTAL = £20,907
3 INSTALMENTS
£
667
/

3 payments (+ £497 deposit)
YOGA TEACHER TRAINING (£5000 value)

Access to the Stretch Your Biz online business course (£497 value)

Hard Copy Teacher Training Manual (£50 value)

Care Package (£25 value)

Yoga Alliance Professionals Trainee Membership & Insurance (£35 value)

Private Access to Victoria on WhatsApp (£300 Value)

Lifetime access to Online Training Studio (£15,000 Value)

TOTAL = £20,907

I am fully committed to the StretchBodyMind Yoga Teacher Training and I want you to be sure that you are too. For this reason there are NO refunds.
While I am offering an installment option, it is important to remember that by paying your deposit you are committing to the full programme and will have to pay the full amount, even if you drop out of the training. You will also not be allowed to graduate until you have paid the remainder of the course costs.
VICTORIA