Do you want to become
an exceptional
Yoga Teacher
?
Deepen your practice and understanding of yoga for your own personal development?
Share the life-changing gift of yoga with others?
Learn how to teach this ancient discipline via the latest online technology?
Get an Internationally Recognised 200 Hour Registered Yoga Teacher Certificate from Yoga Alliance Professionals.
Command a higher rate of pay in gyms and studios or start out on your own and do something you LOVE for a living?
Hi! I'm Victoria, the Founder of StretchBodyMind.
After successful trials during Lockdown, this autumn I am bringing my renowned Yoga Teacher Training course entirely online. However, you might be online but you are not alone! 
When you sign up you will receive a "care package" including your hard copy Manual, a StretchBodyMind branded Student Journal and a couple of other surprises.
You will be invited to a dedicated WhatsApp group and you will have a number of private coaching sessions during the training period. 
During the course, in addition to the practical yoga teaching skills you'll gain, you will also receive the latest in positive psychology, mindfulness meditation and Kundalini kriyas.
In short, you'll get a personal development education as well as professional development one!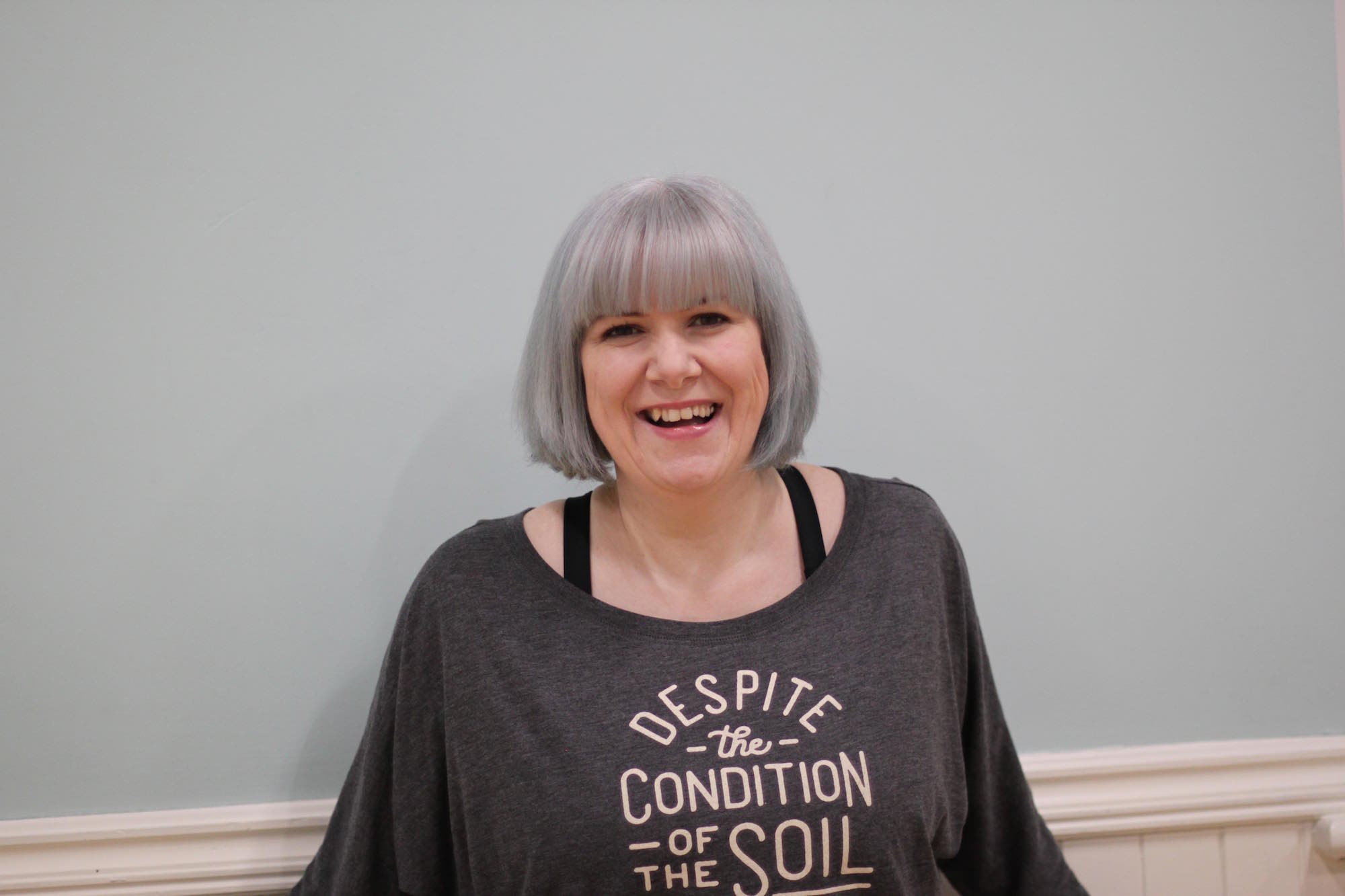 The entire StretchBodyMind Yoga Teacher Training curriculum is designed around the following elements:
FOUNDATION, EXPRESSION AND VISION
as these 3 elements are the cornerstone of StretchBodyMind Founder Victoria's Yoga Teaching and Pilates Instruction.
The FOUNDATION element includes:
Yoga history

Health and Safety

Western Anatomy and Physiology

Sanskrit (the language of Yoga)

Asana

Pranayama
The EXPRESSION element includes:
Yoga philosophy (the important texts of Yoga)

Different styles of Yoga

Eastern Anatomy and Physiology

Mantras (including OM)

The Voice of the Teacher

The science behind adjusting clients
The VISION element includes:
Planning classes

Sequencing

Theming

Mudras

Meditation/Relaxation

An Introduction to Ayurveda
FREQUENTLY ASKED QUESTIONS
The Yoga Teacher Training is housed on the StretchBodyMind Online Studio.
The training is a mixture of:
pre-recorded videos and audios that you can access at any time

required reading which includes classical yoga texts and a comprehensive manual

filling in a Learner Achievement Portfolio (including creating your own set of yoga class plans)

taking part in the monthly live group calls as well as practice teaching in between calls
This course might be online but that doesn't mean any drop in quality. I am limiting the number of students on the course to just twelve so you will not be lost in the crowd.
When you sign up to the training you will receive a "care parcel" from me which gives you something tangible to go along with the ephemeral. You will also receive regular one-to-one coaching with me during the training to ensure you are fully prepared to hit the ground running as a Yoga Teacher in 2021.
 For this component of your training, we're partnering with world-renowned Yoga Educators & best-selling authors of Yoga Anatomy, Leslie Kaminoff & Amy Matthews.
Using what they've learned in their combined 50-years of experience training yoga teachers, they've created a unique online course that's exclusively available through Teacher Training programmes: YogaAnatomy.net Fundamentals.
This is not your average anatomy training!
Leslie & Amy spend time on the things that matter most to a yoga teacher and skip the "which bone is which" lessons that make you feel like you're back in high school science classes…
They'll help you establish a broad base of knowledge by sharing examples, analogies, stories, and guiding you through physical experiments that make the material helpful and applicable to teaching yoga to students.
Leslie & Amy will also share their own favorite teaching strategies like:
* How to make poses accessible for any student
* What to do when students have an injury and still want to practice
* Simple cues that help every student find success on the mat
Leslie and Amy's unique blend of humor and expertise make them the absolute best team to guide you through this phase of your journey, plus you'll work with Victoria to consolidate the learning.
The course takes place from Saturday 24 April 2021 until Saturday 4 September 2021 but you get access to some pre-recorded lectures as soon as you sign up.
Each monthly live training takes place on Saturday from 11am – 5pm.
In between times, we will meet as a group for practice teaching and on a one-to-one basis for coaching.
Dates are:
24 April 2021
22 May 2021
19 June 2021
17 July 2021
14 August 2021
4 September 2021
MAIN POINTS OF

DIFFERENCE
There are a lot of different Yoga Teacher Training courses out there which can make it difficult to choose the one that's right for you.
So, if you like…
Small class sizes (maximum 12 people per course) and lots of personal attention from your course tutor
Hands-on practice of teaching skills so you develop as a teacher rather than having to write essays to prove your worth as a student
A chance to try out different styles of hatha yoga to find the one that fits your style of teaching rather than having to teach to a set script
A personal development education using proven tools for transformation as well as professional development training
A shared learning experience in which you feel encouraged, accepted and part of a community no matter how advanced your asana practice
Then the StretchBodyMind Yoga Teacher Training is the one for you!
Since I started the course I have found a deeper love of yoga and

the course has honestly changed me as a person

. I feel much more confident in my chosen path, more grounded and present, and I've loved learning so much in all the different areas covered in each class! I feel I've achieved much more happiness since starting on the course. 

I could not recommend this course enough, it's a lifetime investment!!!!!
I would recommend StretchBodyMind to anyone looking to expand their yoga practice beyond the mat.

This is more than teacher training

, it's a fully immersive experience into the history and practice of yoga. I have grown as a person and feel that I have benefitted, not just from a set curriculum of teachings, but from the wealth of knowledge and experience that the trainers possessed.
PAY IN FULL
🧘  YOGA TEACHER TRAINING (£3500 value)

👥 Two 1:1 calls with me during the training (£500 value )

📖 Hard Copy Teacher Training Manual (£50 value)

🎁 Care Package (£25 value)

📿 Yoga Alliance Professionals Trainee Membership & Insurance (£25 value)

📲 Private WhatsApp community (£600 Value)

👩‍🎓One year's access to Online Training Studio (£3500 Value)

TOTAL = £8,200

SAVE £151 BY PAYING IN FULL
INSTALMENTS
£
525
/

5 payments (+ £525 deposit)
🧘 YOGA TEACHER TRAINING (£3500 value)

👥 Two 1:1 calls with me during the training (£500 value )

📖 Hard Copy Teacher Training Manual (£50 value)

🎁 Care Package (£25 value)

📿 Yoga Alliance Professionals Trainee Membership & Insurance (£25 value)

📲 Private WhatsApp community (£600 Value)

👩‍🎓One year's access to Online Training Studio (£3500 Value)

TOTAL = £8,200

I am fully committed to the StretchBodyMind Yoga Teacher Training and I want you to be sure that you are too. For this reason there are NO refunds.
While I am offering an installment option, it is important to remember that by paying your deposit you are committing to the full programme and will have to pay the full amount, even if you drop out of the training. You will also not be allowed to graduate until you have paid the remainder of the course costs.
VICTORIA